Cybersauce Broadcasting Corporation
International. Impartial. Incomprehensible.
Have you ever thought the news was randomly generated by computers? Well now you don't have to wonder. The Cybersauce Broadcasting Corporation provides a fresh new look on news by creating it itself, without any human intervention. Tune in for the latest news, politics and sports -- usually in the same sentence.
Cybersauce World News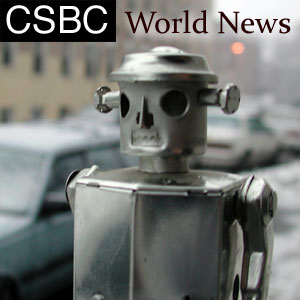 Subscribe (MP3): [ RSS ] [ iTunes (Apple) ] [ My Yahoo! ]
Subscribe (Ogg): [ RSS ] [ My Yahoo! ]
Latest broadcast: 2017-01-23 Cybersauce News (03:59): [ MP3 ] [ Ogg ] [ Transcript ]
Format: MP3, Ogg Vorbis
Release schedule: Each Monday morning
Broadcast duration: Approximately 5 minutes
---
About
CSBC broadcasts are Creative Commons licensed (CC-BY), and incorporate content from Creative Commons news sources (currently Wikinews). Broadcast music is based on works produced by Kevin MacLeod (CC-BY). The CSBC and X11R5 were created by Ryan Finnie.
---