Have you ever thought the news was randomly generated by computers? Well now you don't have to wonder. The Cybersauce Broadcasting Corporation provides a fresh new look on news by creating it itself, without any human intervention. Tune in for the latest news, politics and sports -- usually in the same sentence.
Cybersauce World News
Archives of Cybersauce World News's entire run from 2010 through 2017 may now be found at the Internet Archive.
Cybersauce World News is currently on indefinite hiatus. It previously used Voice of America as a primary news source, but due to the events of Friday, January 20, 2017, VoA can no longer be trusted to remain non-partisan. As the Cybersauce Broadcasting Corporation strives for impartial incomprehensible news reporting, this decision is not made lightly, and CSWN may return in the future if a suitable replacement news source can be integrated.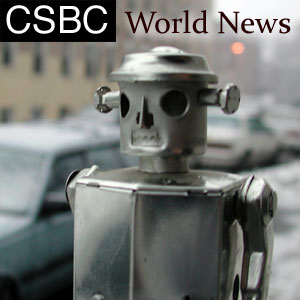 Subscribe (MP3): [ RSS ] [ iTunes (Apple) ] [ My Yahoo! ]
Subscribe (Ogg): [ RSS ] [ My Yahoo! ]
Latest broadcast: 2017-01-23 Cybersauce News (03:59): [ MP3 ] [ Ogg ] [ Transcript ]
Format: MP3, Ogg Vorbis
Release schedule: Each Monday morning
Broadcast duration: Approximately 5 minutes
---
About
CSBC broadcasts are Creative Commons licensed (CC-BY), and incorporate content from Creative Commons-compatible news sources. Broadcast music is based on works produced by Kevin MacLeod (CC-BY). The CSBC and X11R5 were created by Ryan Finnie.